Hip Hop sunday has been called by some, the greatest thing to happen to radio ever. Unfortunately all radio professionals disagree wholeheartedly with this claim. We are Matt and Phil two guys from the great city of Birmingham who now study in Cheltenham with Zoe, and we're delighted and honoured to have been asked to host this blog today. So without further ado welcome to Hip Hop Sunday, Blog Edition!!!
Philip: Each week I uniquely and originally collate all of the weeks weird news in a small easy to manage package we call bullshit news (news that is bullshit!!). In honour of Zoe I bring you one our mutual favourite news stories of recent years.
I present to you the modern day Casanova Howard Russell.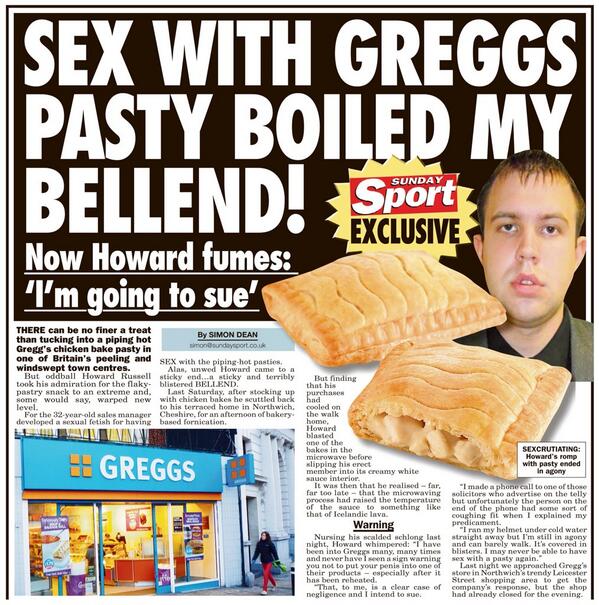 Now don't get me wrong I love Greggs baked goods as much as the next guy, but i've never felt the need to show my appreciation to said pasty with some love making. After developing what can only be called a fetish for the pastry products, Howard recently found himself with a rapidly cooling pasty. I'm sure I don't need to explain why you can't have sex with cold food, so like any self respecting Greggs shagger he popped his pasty (not a euphemism) into the microwave. When he took the pasty out and dipped his "bellend" as the sunday sport so eloquently put it, into the pasty he realised the contents had reached near solar levels of heat. While ultimately escaping with nothing more than a blistered helmet Mr Russell has said he intends to sue for negligence as Greggs never once warned him not to fuck any of their produce, the Greggs he bought the pasty from have not bothered to comment.
Just one of many diamonds that the Sunday Sport call news. And before you ask, if you need to enquire whether or not the Sunday Sport is a real newspaper, then you're not the kind of person I want to be friends with.
Matt: Today, the 4th of May is not just a day that by law you have to at least watch one Star Wars film but it is also filled with much sadness, I am of course talking about the 2 year anniversary of the death of Nathanial Hörnblower aka MCA aka Adam Yauch who died at the age of 47 after a long battle with cancer. One of the founding members of American Hip Hop act Beastie Boys which started its life out as a Punk band that developed into the Grammy award winning act.
Adam Yauch was born in the Brooklyn borough of New York City to a Jewish mother and a Catholic father but in his adult life become a practicing Buddhist and a vocal supporter for the freedom of the Buddhist nation of Tibet. He was also a strong supporter of LGBT rights, to the point that he apologised for some of Beastie Boys lyrics from their early songs.
The Beastie Boys and Adam left their mark on music with Eminem being quoted as saying "Adam Yauch brought a lot of positivity into the world" as well as stating how they influenced him and his music. The band Black Keys on the night of Adams death while playing a live show in Oakland just before going into the song dedicated their hit single Lonely Boy to the dead Hip Hop star.
RIP MCA